Don't Scratch That Kit
Our patches + pens make for a winning combo when it comes to combating all the itchy things Mother Nature has to offer– the perfect one-two punch! Toss this pouch in your backpack, and hit the trails (or the soccer fields)! Perfect for one-the-go application, our products are thoughtfully formulated with naturally-derived ingredients so you can feel good about what you're putting on your skin. (Click here for our Certificate of Analysis.)*
Pen Ingredients:  Water, Propanediol, Simmondsia Chinensis (Jojoba) Seed Oil, Ethylhexyl Palmitate, Cetearyl Alcohol, Cetearyl Olivate, Avena Sativa (Oat) kernel flour, Cocos Nucifera (Coconut) Oil, Sorbitan Olivate, Cannabinoid Sativa Leaf Extract, Cannabinoid Sativa Stem Extract, Menthol, Stearic Acid, Cetearyl Glucoside, Xanthan Gum, Phenoxyethanol, Ethylhexylglycerin
Patch Ingredients: Hydrocolloid Polymer, Tea Tree Oil. These statements have not been evaluated by the Food and Drug Administration.
This product is not intended to diagnose, treat, cure or prevent any disease.
Hemp-Derived CBD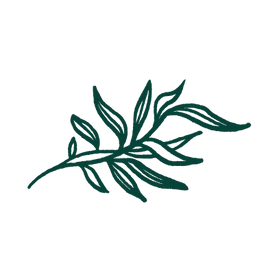 Tea Tree Oil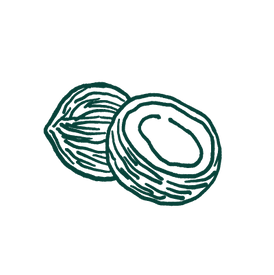 Coconut Oil
Features
Effective
"All natural" often has us side-eyeing effectiveness — but does it work?! Rest assured our plant-derived formula offers soothing relief you can count on to quiet the itch.*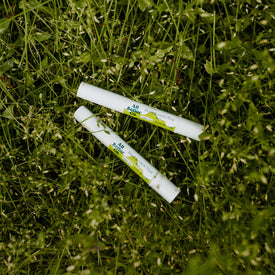 Hemp-Derived CBD
Our formula uses CBD because it helps to relax the problem area so that the active ingredients can do their thing! We use only the most premium grade hemp-derived CBD, and only just enough to be effective.*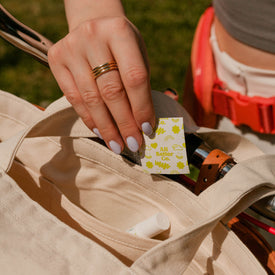 Perfect for On-the-Go
Single handed application is possible! Perfect for all the folks in your family to help themselves to itch relief!*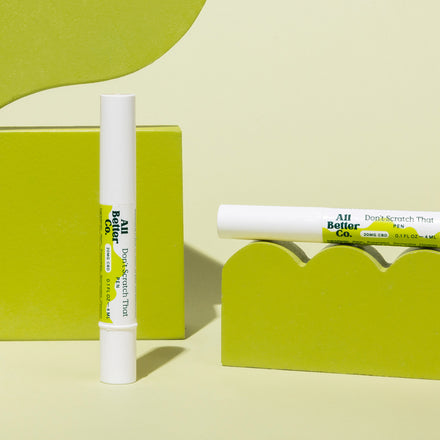 The Pen
Ease the itch with just a few clicks of this clean, effective formula designed with the whole family in mind. Made from naturally derived ingredients, our Anti-Itch Pen offers easy on-the-go application that's perfect for bug bites and those mysterious itchy patches that like to spring up out of nowhere! This product contains 20mg of hemp-derived CBD as a conduit to relax the skin and to help your body heal itself. We Keep away from eyes. For external use only.*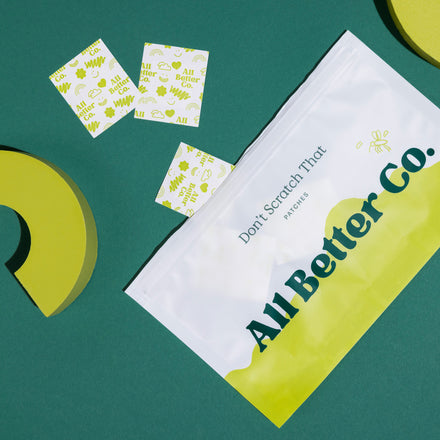 The Patches
This first-of-its-kind hydrocolloidal patch creates a seal around the targeted area to concentrate the reaction. Our one hero ingredient, tea tree oil, soothes inflammation and helps relieve skin irritations.*
IT IS MAGIC
This stuff is magic! I live in Houston (mosquito capital of the world) it this is truly magic! I have used the patches and pen on myself and my kids and it truly takes away the itch in minutes. So glad I found All Better Co.!
FINALLY!
Finally, an anti-itch product that works and helps me rest easy knowing it's not full of chemicals!! Thank goodness. I am ordering one for every beach bag, carry-on tote, picnic, and park bag. These patches and this pen are saving our family's skin. We are SO susceptible to mosquito bites and have been known to rip our skin apart trying to stop the itching. Relief has arrived. THANK YOU ALL BETTER CO!
It works!!!
Used it on a bite and when I took it off next day it wasn't itchy!!
Super Effective!
The Don't Scratch That Pen is so easy to use, and works incredibly well! Not 30 seconds after putting a single click's-worth of the cream on my son's recent mosquito bite he exclaimed "Wow! It's already working!" I now keep it in my purse at all times for easy access. Thanks All Better Co for such a great product!